AFC Urgent care announces fifth Connecticut Center in Three Years, scheduled to open in New Britain this summer. New Britain residents will have a convenient location at 135 East Main St., across the street from the New Brite Plaza Shopping Center, where they will have ample parking, and friendly and professional staff to take care of any medical needs.
As with all of of their locations, hours of operation will be 8am to 8pm during the week and 8am to 5pm on the weekends.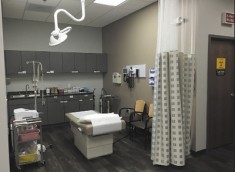 AFC Urgent Care New Britain, formerly Doctors Express Urgent Care- is where you will be able to get an X-ray, on-site lab work, and be treated under the care of Board Certified Doctors, Physician Assistants and APRNs. All doctors are also USCIS Certified Civil Surgeons, and able to perform full immigration physicals as well.  Whether you're a parent of a child that needs stitches but can't get in to see the pediatrician and don't want to spend the time in the Emergency Department, a business owner whose employee gets injured on the job, or an individual in need of a an annual physical – AFC Urgent Care New Britain  will be a full service walk in clinic.
"We live in a world where fast food and pizza are at your fingertips, but good health care is not.  It can be difficult to obtain and is not always consumer-friendly or focused on customer service.  We want to change that" said co-owner Tom Kelly.
The popularity of walk-in urgent care facilities is growing throughout the country and we are seeing the same here in the state of Connecticut.  Since opening its doors three years ago in Danbury, co-owners Tom Kelly and Ron Krippner have opened 2 additional urgent care centers, 1 in West Hartford and an additional Danbury center, and is opening a third walk in clinic in Danbury this summer.  They have treated thousands of patients for everything from typical illnesses and injuries to physicals and work-related accidents.
What's it like going to AFC Urgent Care? It's an experience unlike any other urgent care facility.  No appointment is needed and everyone walking through the door is immediately greeted by "Disneyland" smiles and welcomed to the facility.
"My wife and I have four kids and have certainly spent a lot of time in doctors offices with my kids.  I thought that the consumer experience needed improvement, and determined that we could make it exceptional!" said Kelly.  "We work closely with area hospitals, primary care physicians and specialists, bringing efficiency to the system and improving communication between health care providers"
"We are local guys investing our own money in a medical center to take care of folks in our community,"adds Ron Krippner, co-owner.  "Unlike many private equity investors entering the urgent care space, we are not interested in simply opening and quickly flipping an operation.  Rather, we are in it for the long haul – we want AFC Urgent Care to make a positive contribution to our communities and to the future of Connecticut's healthcare landscape."